Taiwan abuzz over 'pregnant' panda Yuan Yuan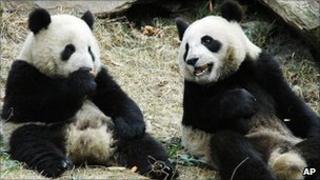 In Taiwan there is excited speculation about a celebrity pregnancy - with a difference. All attention is on Yuan Yuan, the giant panda.
She is one of two giant pandas given to Taiwan by China in 2008 to symbolise improving relations between the two.
Taipei Zoo says Yuan Yuan is showing signs of pregnancy - sleeping more, eating less and is unusually cranky.
Experts at her birthplace in Sichuan told zoo keepers that her mother showed the same signs when she was expecting.
Yuan Yuan was artificially inseminated in February, because the panda pair showed a disappointing lack of interest in each other. Zoologists believe they are simply too young and inexperienced.
Good omen?
But it will not be until June or July that Yuan Yuan's keepers will know for sure if she is pregnant - just two weeks before the birth.
Panda embryos are so tiny they do not show up on early ultrasound scans.
And Yuan Yuan objects to the examinations, so officials are leaving her well alone.
If she is pregnant, Beijing would be thrilled. It would see a birth as a good omen for relations with Taiwan.
China regards Taiwan as a province, even though the island has been governed separately since the end of a civil war in 1949.
It is no coincidence that China named the pandas Tuan Tuan and Yuan Yuan. When said together, that means 'reunion' in Chinese.