Japan earthquake: Dealing with mountains of debris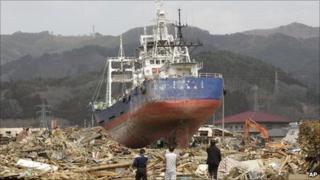 Two months after the earthquake and tsunami in Japan, the task of clearing up the wreckage has barely begun.
Towns along the coast have been left clogged with vast amounts of debris and local authorities are struggling to find places to put it.
So great is the destruction in Ishinomaki that it is difficult to know where to start, but volunteers from the charity Japan Emergency NGO decided Mr and Mrs Kimura's house was as good a place as any.
Miraculously it was left standing when the tsunami swept through, even though the water left a tidemark above head height.
The team began by digging out the mud with spades before dumping the ruined furniture in the garden. They even found dead fish inside.
Once it was a beautiful home of wood, paper screens and with tatami mat floors. The elderly couple, who both survived, are hoping to live here again.
"When I came here my impression was that it was very shocking," said Tetsuo Kimura, the organiser with the charity that usually deploys Japanese personnel to disasters overseas.
"I couldn't say anything when I first came and saw the scene. That's the feeling I felt."
The task ahead of his team is enormous.
Many neighbourhoods were completely destroyed - in Ishinomaki 28,000 houses have been lost according to local officials - but there are also thousands of homes like the Kimuras', clogged with filth but perhaps salvageable.
"I don't know when we will finish," says Mr Kimura. "But we will just go on until all the houses are clean."
Rubbish mound
Up and down the coast clearing up is now their biggest challenge. The earthquake and tsunami smashed once pretty seaside towns.
Everything which was brought into them for generations now lies in pieces across the ground, tangled in mud.
The disaster in numbers
According to the environment ministry there are 20 million tons of debris, although some estimates have put the figure higher. In Miyagi prefecture about 146,000 vehicles have been damaged or destroyed - one in 10 of the total.
The government in Tokyo will shoulder the cost in the end. In the first emergency supplementary budget, 352bn yen ($4.3bn, £2.6bn) is set aside for the task although more is likely to be needed.
The aim is to remove all the waste that is getting in the way of daily life by August - clearing roads and so forth - but huge amounts are left on private property too.
In Ishinomaki, diggers have been used to begin to gather the wreckage into huge piles.
The centre of the city is now dominated by a gigantic stinking mound of splintered wood, clothes and metal, the same height as a three or four-storey building and several hundred metres long.
But it is only a temporary measure, no-one wants to live with a mountain of waste blighting their town. A permanent way of disposing of it will have to be found.
'National effort'
Hideyuki Katsumata's company runs the town's dustbin carts, doing the weekly collections of rubbish.
All but three of his 40 lorries were destroyed by the tsunami and they have now been put to work on the clear-up operation.
There is, he believes, the equivalent of an entire century's worth of household waste.
A dump has been set up outside Ishinomaki, in a valley in the mountains, overlooking the sea. The debris is slowly being transferred there from the piles in town, and trucks arrive every few minutes.
Bulldozers are being used to compact it as much as possible, but it will not last long.
"We thought that was enough for one year," he says. "But we started a month and a half ago and now it is full."
Mr Katsumata says they need help.
"It must be a national effort. They've sent the army and heavy machinery, but we need to recycle and get rid of this stuff now and the government has not come up with a detailed plan yet.
"We just don't know what to do, where do we go from here?" he said.
Ship-breakers
One particular problem is all the boats and ships that were washed inland and are now stranded, some on the tops of buildings.
More than 20,000 vessels were damaged or destroyed by the tsunami in all.
Those made of fibreglass can be cut up easily enough, or even moved with cranes back into the sea. Bigger steel boats and ships may have to be dealt with where they lie.
Specialist ship-breaking firms in Japan are not used to doing their work in the street, they carry out precision dismantling in dry docks. Their association says members are still working out how to begin.
Dealing with the wreckage left behind by the disaster is likely to take a very long time - Japan's government is yet to estimate how long.
After the Kobe earthquake in 1995, which was on a smaller scale, the clean-up operation lasted for three years.
People are desperate to get back to their old neighbourhoods, but until they can be cleared there is no hope of starting to rebuild.