China unofficial Christian churches petition ministers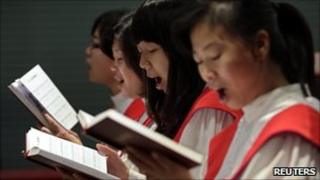 The leaders of 17 unofficial Christian churches in China have appealed to political leaders to protect their right to worship.
A petition was delivered to parliament demanding an investigation into the treatment of Shouwang church members.
China's constitution guarantees freedom of worship but dozens of church members have been arrested in recent months.
Of China's estimated 70m Christians, about 50m worship with unregistered groups known as "house" churches.
The rest attend government-approved churches.
'Protection of the liberty'
Shouwang is one of Beijing's biggest so-called underground churches, with more than 1,000 members.
Such groups are broadly tolerated, but Shouwang leaders have annoyed the authorities in recent weeks by insisting on trying to hold services in the open, after the lease on church premises was terminated.
The petition, which was signed by the pastors of 17 of the leading house churches, was addressed to the National People's Congress chairman, Wu Bangguo.
"We have observed the conflict between state and church unfolding recently in our capital Beijing and have so far seen no sign of the conflict being resolved," the petition said.
It urged ministers for a new law for the "protection of the liberty of religious faith".
China's Foreign Ministry said Shouwang members had "tried repeatedly to gather illegally in the streets" and the government response was intended to "maintain public order and security".
"The Chinese government safeguards the right of Chinese citizens to religious freedom and freedom of faith in accordance with the law," spokesman Jiang Yu said at a news briefing.
"At the same time, while enjoying their freedom, citizens must respect their legal rights and obligations and cannot harm the public interest."