Thailand: Bail revoked for two 'red-shirt' leaders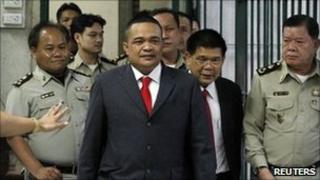 A Thai court has revoked the bail of two "red-shirt" leaders and sent them to jail, citing security concerns about alleged insults against the monarchy.
Jatuporn Promphan and Nisit Sinthuprai were among nine opposition leaders charged with terrorism after the street protests in Bangkok a year ago.
On Wednesday, historian Somsak Jeamteerasakul also faced a complaint that he insulted the monarchy.
Thailand goes to the polls in early elections on 3 July.
Mr Jatuporn was one of the most prominent "red-shirt" leaders during opposition protests last year. The ten-week protests, ended by a military crackdown on 19 May, left more than 90 people dead.
Mr Jatuporn is a candidate for the Puea Thai political party, aligned to former Prime Minister Thaksin Shinawatra, and was reported to be planning to campaign from jail if necessary.
Lawyers for the men said they would appeal the decision to revoke bail and offer higher sureties.
The lese majeste complaint rests on rival interpretations of speeches given on 10 April this year to mark the anniversary of the first attempted crackdown on last year's protests.
'Political prisoners'
The Department of Special Investigations (DSI) has tried repeatedly to get bail revoked for all the "red-shirt" leaders on the grounds that a condition for them not to incite unrest had been continually violated.
Mr Jatuporn's immunity as a member of parliament expired on Tuesday when the house was dissolved to prepare for elections.
Complaints of lese majeste and accusations of sedition have been lodged against more than a dozen "red-shirts".
Thai academic Somsak Jeamteerasakul went to a police station on Wednesday to acknowledge a complaint laid against him by the country's powerful military.
He told the Bangkok Post that the army had gone "beyond the call of duty" in pursuing such a wide range of lese majeste accusations.
He described all those currently accused of lese majeste as "political prisoners" and said he would be fighting the complaint.
The political temperature in Thailand has risen with the announcement of general elections, six months earlier than necessary.
Thai Prime Minister Abhisit Vejjajiva says the polls will allow the country to move on from bitter divisions in recent years.
Opposition figures and academics have said elections will not resolve deep-seated conflicts in Thai society.
They note that no-one has been brought to court for the deaths that occurred during two military crackdowns on the protests last year.