Forbidden City art theft embarrasses Beijing officials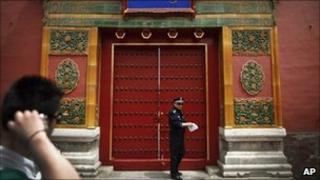 Seven pieces of art have been stolen from the Palace Museum inside Beijing's former imperial palace, the Forbidden City, in the first theft for 20 years.
The stolen items - which were on loan to the museum - include a purse and women's make-up cases.
Police are reported to be looking for a 27-year-old man in connection with the theft.
The valuable items were stolen from one of China's top historical sites in the heart of Beijing.
News reports say the thief got into the complex by knocking a hole in a wall.
The stolen items date from the beginning of the last century and are said to be worth millions of dollars. Some are encrusted with precious stones.
Red faces
This will be an embarrassment for those who run the Palace Museum.
One official has already said that there was a lapse in security.
"Certainly we can only blame the fact that our work was not thorough enough if something like this can happen," said official Feng Nai'en at a news conference.
An investigation has begun to see where improvements can be made and the museum is checking to see if any other objects have been taken.
Perhaps more embarrassing though is the fact that these items were on loan from Liangyicang, a private collection in Hong Kong.
The Beijing News reported that the Hong Kong museum had not insured the items for as much as it could have because it believed they would be safe in Beijing.
The Palace Museum is based within the Forbidden City, home to the country's emperors during the Ming and Qing dynasties.
The complex is made up of courtyards, palaces and gardens. It became a museum in the 1920s after the fall of the last emperor Puyi a decade earlier.