Kiribati gets emergency aid to meet rising food costs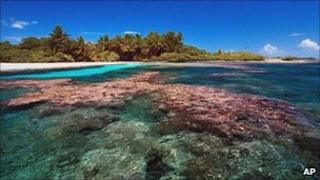 The World Bank is to provide tens of thousands of people in the outer islands of Kiribati in the South Pacific with emergency food aid.
The money will be spent on delivering supplies to some of the world's most isolated communities, which lie about half way between Hawaii and Australia.
Straddling the equator, islanders rely heavily on imported food.
As global prices have soared many households are now spending more than half of their budgets on groceries.
In response, the World Bank is to send US$2m (£1.2m) emergency aid to more than 60,000 residents in outlying areas, which amounts to about 60% of the population of Kiribati.
Lost at sea
This remote string of islands has few natural resources and is one of the least developed island nations in the Pacific.
Commercial deposits of phosphate were exhausted many years ago.
While fish and copra are exported, economic development has been hindered by a lack of skilled workers and the huge distances to overseas markets.
Tourism provides about one fifth of the islands' income, while a similar proportion comes from foreign aid.
The emergency food grant was agreed after a meeting between World Bank executives and Kiribati government officials.
Meanwhile, in the vast expanses of the Pacific Ocean a search off the coast of Kiribati has failed to find any sign of six young people who have been missing since last Friday.
Two 19-year-old men and four girls aged under 12 set out on a small canoe to collect palm leaves for roofing.
It is though they drifted out of a lagoon into the open sea.