Japan 'to review energy policy' over nuclear crisis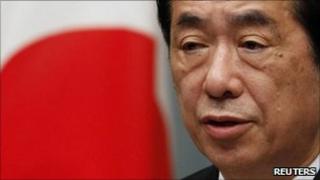 Japan is to reconsider plans to increase its reliance on nuclear power in the wake of the crisis at the Fukushima plant.
Prime Minister Naoto Kan said Japan had to start from scratch with its energy plans following the disaster.
The plant has been leaking radiation since the 11 March earthquake and subsequent tsunami damaged cooling systems to the reactors.
Operator Tepco has asked for government help to compensate those affected.
More than 80,000 local residents living within a 20km (12 mile) radius of the plant have been evacuated from their homes.
Agriculture and businesses have been hit and there is no timescale yet for allowing residents to return, although a small group were allowed inside the no-go zone briefly on Tuesday to gather belongings.
Total compensation claims are not yet known, but analysts say they may be more than $100bn (£61bn).
'Big incident'
Nuclear plants currently supply about 30% of Japan's electricity.
Addressing a news conference, Mr Kan described nuclear power as a "major pillar" of Japanese society, along with fossil fuels.
But he said other forms of energy would also be key in the future.
"The current basic energy policy envisages that over 50% of total electricity supply will come from nuclear power while more than 20% will come from renewable power in 2030," he said.
"But that basic plan needs to be reviewed now from scratch after this big incident."
"Better safety must be ensured in nuclear power while renewables need to be promoted."
He said greater focus would also be placed on ways of conserving energy, turning Japan into an "energy-saving society".
Mr Kan also said he would not take his prime minister's salary until the plant was under control and would be paid only as a member of parliament.
Tepco (Tokyo Electric Power Company) has said that it may take up to nine months to achieve a cold shut-down at the nuclear plant, which workers are struggling to stabilise.
Cooling systems were knocked out, causing fuel rods to overheat. There were subsequently explosions at four reactors operating at the time of the earthquake.
Engineers are pumping water into the reactors to cool them as they work to restore the damaged cooling systems.
Mr Kan's comments came hours after Tepco said it had presented a formal written request for assistance to Economy Minister Banri Kaieda.
In a statement, the company said it faced "an extremely severe situation" in terms of raising funds and that it needed state help so that "fair and prompt" compensation could be paid to local residents.
It has promised to restructure and executive salaries have already been reduced.
Japan's biggest power utility also faces billions of dollars in extra fuel costs to make up for reactor closures at Fukushima.
Shares in Tepco - which serves an area that accounts for 33% of Japan's economy - have plunged since the earthquake and subsequent tsunami.
On Tuesday, Finance Minister Yoshihiko Noda hinted that the government would give Tepco some form of support.
"They can't be allowed to face bankruptcy," said Penn Bowers, an analyst at CLSA in Tokyo. "I think everyone understands they can't be allowed to fail."