New Zealand probes mystery 'kiwi' found in Russian port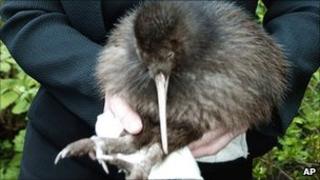 New Zealand says it is checking reports that a rare kiwi bird has been found thousands of miles from its native land in the Russian port of Sochi.
Russian media reports said the bird had been found in a garden in the city and had been there for three days.
A local zoologist suggested it had arrived on a cruise ship.
Kiwi are endangered and cannot fly. An expert also said he knew of no illegal trade in the birds because they were both shy and hard to handle.
Sochi is a Black Sea port and tourist resort with a warm climate some 16,000 km (10,000 miles) from New Zealand.
Russian media said that the bird was found in a "decorative garden".
Port officials said it was unlikely to have arrived by ship because controls were too stringent.
Local experts quoted in the reports said they were now working out how to keep the bird alive.
"This is such a strange story, I'm shocked. It baffles me because kiwi are nocturnal and very shy... I've never heard of a black market involving kiwi," Paul Kavanagh, senior officer at Queenstown's Kiwi Birdlife Park, told Radio New Zealand.
"If you don't know how to handle one, they can be very aggressive," he added.
New Zealand's Department of Conservation (DOC) called for caution, saying similar reports had turned out to be hoaxes, the New Zealand Herald reported.
But a spokesman said the DOC was making enquiries to see if the report could be confirmed.
Kiwi, long-beaked chicken-sized birds that cannot fly, live only in New Zealand.
In 2008, the number of kiwi remaining was estimated to be approximately 72,600, according to the DOC website.