Ai Weiwei supporters arrested in Hong Kong for graffiti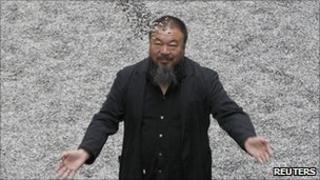 Police in Hong Kong have arrested two activists for spray-painting slogans in support of the detained Chinese artist, Ai Weiwei.
The two men were later freed on bail.
Mr Ai - who in recent months became an outspoken critic of China's human rights record - has not been heard from since he, too, was arrested in Beijing last month.
Hong Kong's pro-democracy party said the arrest of the activists amounted to persecution.
Worldwide reputation
The pro-democracy League of Social Democrats (LSD) described the arrests as "very wrong", the AFP news agency reported.
"The graffiti are a form of freedom of expression. The arrest was akin to helping the mainland Chinese government to crack down on dissidents," party vice-president Avery Ng told AFP.
Protesters have mounted a sporadic graffiti campaign in Hong Kong on behalf of Mr Ai.
The Chinese authorities say they are investigating him for economic crimes - as yet unspecified.
The artist was detained at Beijing airport while passing through security checks for a flight to Hong Kong.
Ai Weiwei's reputation is worldwide. He helped design the main stadium, known as the Bird's Nest, for the Beijing Olympic Games in 2008.