Philippine storm threatens more after killing 11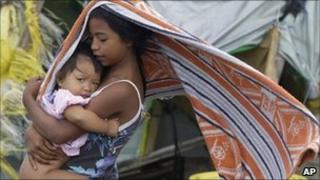 Officials in the Philippines have told residents to stay away from hillsides prone to slips after 11 people were killed by Tropical Storm Aere.
Tens of thousands of people were also displaced by the onslaught in eastern areas of the Philippines.
Tropical Storm Aere hit on Sunday with winds of 85km (53 miles) per hour.
More than 50 domestic and international flights were cancelled or delayed, power was cut and ships told to stay inside coastal shelters.
The 11 people killed include nine in the provinces of Camarines Sur, Albay, Catanduanes, Leyte and Northern Samar.
Another man was electrocuted, while one died in a truck accident.
Thousands were helped to move away from their farms around Mayon volcano in Albay, where landslides were threatening and heavy rains had caused rivers to flood.
"The floods were so deep, they went past the head," a resident of Sorsogon province, who rowed through the floodwaters in a makeshift raft, told Reuters.
The storm, known locally as Bebeng, is now surging across the country towards Luzon.
"We're advising residents in high-risk areas to pre-emptively evacuate before the storm hits," said Chito Castro, spokesman for the government's disaster-response agency.
The storm is expected to move on to Taiwan later in the week.