Thailand and Cambodia border talks fail at Asean summit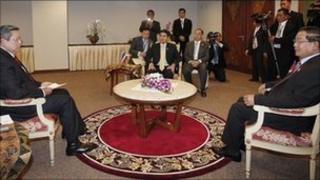 Talks between the Cambodian and Thai prime ministers have failed to resolve a deadly border dispute.
Hun Sen of Cambodia and his Thai counterpart Abhisit Vejjajiva met on the sidelines of the regional Asean summit, but made no breakthrough.
Tensions over clashes in which 18 people have died have overshadowed the gathering, in Jakarta, Indonesia.
The other issue causing concern at the summit is Burma's request to take over the chairmanship of the group in 2014.
That suggestion has sparked criticism from human rights campaigners.
US-based Human Rights Watch said that if Burma was to take on the role, the Association of South East Asian Nations (Asean) would be reduced to "the laughing stock of intergovernmental forums".
A final statement at the meeting said the matter was still under consideration, Reuters news agency reported.
'Point-scoring'
Host nation Indonesia, which has been attempting to broker a peace between Thailand and Cambodia, brought the two leaders together on Sunday morning.
Both Thailand and Cambodia however indicated the discussions had been fruitless.
Mr Hun said the onus was on Thailand to accept the conditions for the deployment of Indonesian observers into the disputed area.
"Once Thailand signs the acceptance of the terms of referenece, then the meeting of the general border committee can start immediately," he said, the Associated Press news agency reported.
At a news conference, Mr Abhisit blamed Cambodia for the violence but called for a peaceful settlement.
"The objective of what we are doing shouldn't be about scoring political points, thinking that there is some kind of technical victory on one issue or another. But the ultimate objective must be to achieve lasting peace. So that both our people can live peacefully side by side, along the Thai-Cambodian border."
The BBC's Karishma Vaswani, in Indonesia, says that though the annual meeting is an opportunity for the 10-nation bloc to present an image of unity to the world, the recent fighting on the Thai-Cambodian border has been a huge embarrassment for the group.
Indonesia's Foreign Minister Marty Natalegawa said the next few days could be critical in stabilising the situation.
"We have a terms of reference that has been agreed. We now have to create conditions that are conducive for the early assignment of the observer team and at the same time we need to have the political process ongoing between the two sides," he said.
Seventeen soldiers and a Thai civilian have been killed since February when clashes erupted in a disputed area around the 900-year-old Preah Vihear temple.
Tens of thousands of villagers have fled the fighting.