Australia row over PNG 'asylum camp plan'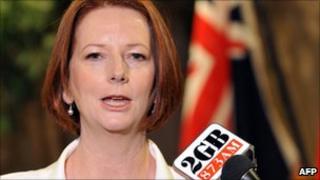 A row has broken out in Australia over reports it plans to reopen a controversial processing centre for asylum seekers in Papua New Guinea.
ABC News says the government is in discussion with PNG to reopen the Manus Island detention centre.
PM Julia Gillard has not confirmed this but a PNG minister said a request to house a centre had been made.
The Manus Island centre was part of the so-called "Pacific solution" adopted by the John Howard government.
Processing centres were set up there and on the tiny island of Nauru, the governments of the two nations receiving millions of dollars in aid in exchange.
The Australian navy was deployed to divert all boats carrying asylum seekers to those camps, where many were detained for months under high security.
Some went on hunger strike to protest against their living conditions and continued detention.
Many Australians did support the policy but rights groups condemned it and accused Australia of failing to meet its obligations under refugee conventions.
The policy was reversed in 2008 by Ms Gillard's predecessor, Kevin Rudd, after he defeated Mr Howard in a general election.
But Australia has seen an increase in the number of people arriving by boat in recent months, prompting public calls for a tougher line.
'Failed policy'
PNG Foreign Minister Don Polye said his country had been asked by Australia to house a centre.
"Australia is open to putting the centre anywhere, but Manus would be an ideal situation," ABC news quoted him as saying.
He said a plan had been discussed at a special cabinet meeting on Friday.
ABC reported that senior immigration department officials had visited Manus Island earlier this week.
Ms Gillard - who had previously talked of putting a centre in East Timor - would not be drawn on the issue.
"What I would say is when the government's in the position to make an announcement about what has arisen, then we'll announce it and then people will have a full opportunity to analyse it," she said.
Opposition leader Tony Abbott said that the move was vindication of the Howard government's policy.
"On its own Manus Island won't stop the boats and it won't end the protests," he said.
"And I think it is incumbent on the government to explain how something that was supposed to be an affront to human rights when John Howard did it is now necessary to protect our borders."
But refugee advocate David Manne said the move would mean "vulnerable people seeking our help are essentially cast into indefinite exile".
Amnesty International called it a retrograde step.
"This was a failed policy that was internationally condemned for breaching the human rights of some of the world's most vulnerable people," said the group's refugee spokesman Dr Graham Thom.
"It would appear that this is a clear attempt by the government to remove people from the oversight of the Australian courts, with the serious consequence that people in genuine need of protection may be rejected and sent back to where their lives may be at risk."
Australia's immigration detention system has come under increased pressure in recent months, with growing numbers of asylum seekers from Sri Lanka, Afghanistan and Iraq arriving by boat.
Detainees unhappy with their treatment have rioted at both the Christmas Island and Villawood detention centres.
The government has already announced the provision of 1,900 more beds on the Australian mainland to accommodate new arrivals.