Thailand-Cambodia border crossing reopens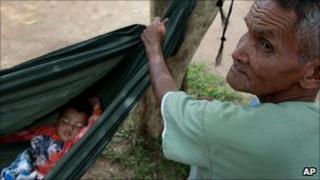 A border crossing between Thailand and Cambodia, closed during recent fighting, has been reopened amid signs that tensions may be easing.
A tentative truce appears to have held since Monday night, and tens of thousands of villagers displaced by the fighting are gradually returning home.
Seventeen soldiers and a Thai civilian have been killed in the clashes.
The leaders of the two countries are expected to meet at a regional summit in Indonesia this weekend.
The latest fighting flared on 22 April around the temples of Ta Moan and Ta Krabey, which lie in jungle areas that both countries claim.
The area is about 200km (125 miles) west of the disputed 900-year-old Preah Vihear temple, the scene of deadly clashes in February.
The exchange of gunfire across the Thai-Cambodia border has ceased, allowing the more usual exchange of trade to resume via the newly reopened crossing. But correspondents say the row is far from being resolved.
Cambodia is now seeking clarification from the International Court of Justice of a ruling made in 1962.
The court awarded Cambodia ownership of the Preah Vihear temple, but Thailand lays claim to the land around the temple.
The issue has long been a source of tension and bone of contention for nationalists on both sides, says the BBC's South East Asia correspondent Rachel Harvey.
Cambodia has asked the court to act "as a matter of urgency" because of the gravity of the situation.
Indonesia has been trying to broker a permanent ceasefire and has offered to station observers in the disputed border areas.
Those efforts will be tested again this weekend when Jakarta hosts a regional summit including the leaders of both Thailand and Cambodia, our correspondent says.