North Korean political prison camps growing - Amnesty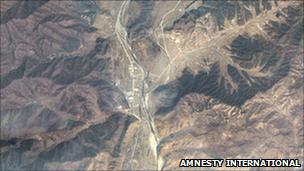 A rights group has published satellite images of what it says are North Korea's political prison camps, saying they appear to be growing in size.
In a linked report, Amnesty International also provides new witness testimony to shed light on the conditions in the camps.
The document details accounts of torture, starvation and mass executions of political inmates.
Amnesty has urged the secretive state to immediately close all the camps.
It also calls on Pyongyang to publicly admit the existence of the camps.
The North Korean government - which has denied the existence of mass political prison camps - has not publicly commented on the report's findings.
The new images show four of the six camps occupying huge areas of land in vast wilderness sites in the provinces of South Pyongan, South Hamkyung and North Hamkyung, Amnesty says.
A comparison of the latest pictures with satellite imagery from 2001 indicates "a significant increase in the scale of the camps", it adds.
"These are places out of sight of the rest of the world, where almost the entire range of human rights protections that international law has tried to set up for the last 60 years are ignored," said Sam Zarifi, Amnesty's Asia Pacific director.
"As North Korea seems to be moving towards a new leader in Kim Jong-un and a period of political instability, the big worry is that the prison camps appear to be growing in size."
Amnesty says its report is also based on testimony from 15 former inmates and prison guards and a number of other people.
The former prisoners at one camp at Yodok said they were forced to work in conditions approaching slavery and were frequently subjected to torture and inhumane treatment.
Kim, a former prisoner in Kwanliso 15 at Yodok, says: "Everyone in Kwanliso witnessed executions. All those who tried to escape were caught. They were interrogated for two to three months and then executed."
Amnesty also says it has been told of several accounts of people in the camps eating rats or picking corn kernels out of animal waste purely to survive amid severe food shortages.
Related Internet Links
The BBC is not responsible for the content of external sites.