Chinese dogs rescued from dinner table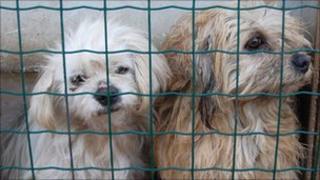 Animal rights activists in China have rescued nearly 500 dogs destined for the dinner table after stopping a truck carrying the animals.
They bought the dogs from the lorry driver for $18,000 (£11,000) following a stand-off by the roadside involving the police.
The animals are now recovering at a compound on the outskirts of Beijing and at a number of animal hospitals around the city.
The incident illustrates how a growing number of Chinese people now view dogs - and cats - as pets rather than protein.
It also reveals how China has an expanding animal rights movement; people who are prepared to take action on the streets.
Good for health?
Animal lovers sprung into action when they got a tip-off that a shipment of dogs was passing through Beijing.
Crammed together in cages, the dogs were being driven to northeast China to be sold to restaurants for their meat.
Dogs have been eaten in China for centuries, with many people believing they have medicinal properties.
When he heard, Wang Qi, who works for the China Small Animal Protection Association, made a call on his micro-blog site for people to stop the truck.
That is how many of the association's volunteers keep in touch.
"I sent the message and then dashed to the scene. People started getting there about an hour later. In all, there were nearly 300 people," said Mr Wang.
The police also turned up, but said they had no power to intervene: the truck driver was breaking no law.
The stand-off at a toll booth lasted for 15 hours. Finally, in desperation, the activists used their own money to buy the dogs from the truck driver.
Most of the animals were taken to the association's walled compound just north of Beijing.
Many would not have been welcome in more urban areas of the city, where canines that grow taller that 35cm (1ft) are banned.
Moved to tears
Some of the rescued dogs were ill. Tightly packed for easy transportation, they had scratched and bitten each other.
Many were also suffering from parvovirus, a potentially fatal virus that attacks a dog's intestines or heart.
Accompanied by volunteers, some were taken to more than 20 animal hospitals; others are recovering at the association's compound.
Days after the rescue, they still bore the scars of their ordeal. They lay bandaged and recovering in individual cages.
News of the rescue spread quickly, with hundreds of volunteers and well-wishers visiting the compound in the days that followed.
It is not easy to find - and a sign on the door warns women with a delicate constitution to stay out - but that did not deter the animal lovers.
While the BBC was at the compound an 80-year-old woman and her daughter turned up in a car crammed full of dog food - a donation for the association.
"I'd heard about this organisation before, but I've never been here. I thought I'd come and do whatever I could," said the pensioner.
Even the rain did not keep away the well-wishers, many of whom appeared wealthy. Their flashy cars lined the road leading to the compound.
Some were simply overcome by the drama of the dog rescue and the pitiful condition many of the animals were in.
"I came with some dog food - I feel very bad," said Qi Jing, as she tried, unsuccessfully, to hold back her tears.
Later on, the woman who founded the China Small Animal Protection Association, Lu Di, turned up with even more volunteers.
Many were dressed in face masks, rubber gloves and Wellington boots, and took orders willingly.
No one could accuse Ms Lu of not loving animals - she shares her home with about 100 cats and dogs.
She said Chinese law does not adequately protect pets, which means people are being forced to take matters into their own hands.
"There aren't many volunteers here today because it's raining, but there were more than 100 here yesterday and the day before," she said, while ordering a clean-up of the chaotic compound.
The Chinese authorities are currently engaged in the biggest crackdown on dissent in years, with lawyers, bloggers and activists arrested.
But this dog rescue shows that activism is still able to flourish in China - as long as it is the right issue.