Thai king 'recovering following lumbar puncture'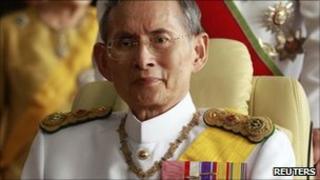 Thailand's King Bhumibol Adulyadej is recovering well from a lumbar puncture procedure, the Royal Household bureau has said.
The medical procedure was performed to drain excess fluid circulating around his spinal cord and brain, a suspected cause for his unsteadiness.
King Bhumibol, who is 83, is hugely respected in Thailand and has been the country's unifying figure for decades.
He has mostly been in hospital since 2009, making occasional public trips.
The Thai Royal Household said the king had recovered from the lung infection for which he was originally taken to hospital, but had remained in hospital for rehabilitation and nourishment.
He is now receiving antibiotics intravenously.
"His majesty has some pain where the puncture was but his overall condition is good," the bureau said.
King Bhumibol is the world's longest reigning monarch.
He has no official political role but has been credited with intervening at moments of acute political tension to find a non-violent resolution.
There is near universal affection for him among the Thai public but the country also has harsh "lese-majeste" laws which punish any criticism of the monarchy with up to 15 years in prison.
The king's health is a sensitive issue because of concerns his succession may be complicated at a time of ongoing domestic political tensions.