Japan passes budget for emergency earthquake relief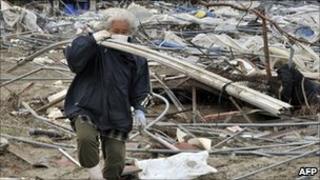 Japan's parliament has passed a 4tn yen ($49bn, £30bn) emergency budget for reconstruction following the 11 March earthquake and tsunami.
The bill, unveiled last month, passed the lower house on Saturday and was approved unanimously by the upper house budget committee early on Monday.
It will help fund new housing for tens of thousands of people who lost their homes.
It will also support businesses hit by the disaster.
According to the latest police figures, 14,704 people are now known to have died in the disaster and another 10,969 remain missing.
Budget wrangle
Finance Minister Yoshihiko Noda said further spending would follow in the months ahead. Ultimately the disaster could end up costing Japan $300bn, analysts say.
Allocations intended for pension funds, child allowances and slashing motorway tolls have been diverted into the emergency budget.
The opposition backed the emergency package, but Prime Minister Naoto Kan's government is expected to face tougher battles to secure future reconstruction funds using a mixture of borrowing and tax hikes.
Japan already has a debt burden double the size of the economy.
Polls over the weekend showed mounting public concern over Mr Kan's leadership during the crisis, which has seen exports severely hit by power and supply shortages.
Work to bring the crippled nuclear plant in Fukushima under control is continuing, after the earthquake knocked out cooling systems to the reactors.
Workers have been pouring water into reactors to cool fuel rods, but have then faced the challenge of containing contaminated waste water leaking from the reactor buildings.
Their goal is to gain access to reactor buildings to restore cooling systems. On Monday workers were preparing to install an air purifier in the No 1 reactor building to reduce radioactivity, a spokesman said.
Plant operator Tokyo Electric Power Company (Tepco) has said it could take up to nine months to bring the plant fully under control.
On Monday top government spokesman Yukio Edano said the government would not cap liabilities faced by Tepco, because the disaster was "not impossible to foresee".