Royal wedding: ABC forced to cancel satirical show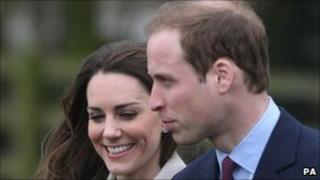 Australia's ABC broadcaster has had to cancel its satirical royal wedding special after being told footage could not be used for "comedy purposes".
The programme, which was due to be aired on ABC2, featured the well-known comedy team The Chaser.
Contractual restrictions bar comedy and entertainment programmes from using live footage of the ceremony.
The comedians have now written to Buckingham Palace asking for what they call a "stay of execution".
'Out of step'
ABC - Australia's national broadcaster - said it was "surprised and disappointed" to be told that live footage from the royal wedding could not be used.
Alongside its more formal coverage, the plan had been to broadcast the ceremony on its second channel ABC2, with commentary provided by members of The Chaser team, which is famed for its stunts on Australian politicians.
ABC said Australians would appreciate an alternative take on the wedding, and pointed out that one of the TV networks here is using Dame Edna Everage as a commentator.
The Chaser team said the decision was out of step with a modern democracy, which it claimed was much like the monarchy itself.
The BBC said the restriction on using the live footage applied to all broadcasters around the world and had always been part of the contractual agreement with the office of the Prince of Wales.