China to cut tax for low earners to boost stability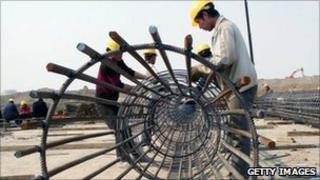 More details are emerging of China's plan to raise the income tax threshold by 50% and to double salaries within the next five years.
Lawmakers are revising the income tax law to narrow the wealth gap and to encourage more domestic consumption.
The amendment will raise the threshold for personal income tax from 2,000 to 3,000 yuan a month (from $304 to $456).
Some 50 million more people would be exempt from income tax and the measure would cost the government $18bn a year.
The third national re-adjustment since 2006 will come into force later this year.
Meanwhile officials revealed this week that the country's powerful Development and Reform Commission is drafting a wide-ranging plan to increase the benchmark salary set by the government by 15% each year in the next five years.
The official poverty line will be moved up too, from half a dollar a day now to 63 cents, about half of the UN standard of $1.2.
That still means more than 100 million people will be designated as below the poverty line and receive low-income and housing benefits from the government.
The authorities have been forced to make the move as the widening income gap between rich and poor is leading to social unrest in many parts of the country.
They hope the legislative change would lead to fairer wealth redistribution and help towards rebalancing the world's number two economy.
That could have a far-reaching impact on the rest of the world if China's domestic consumption grows.
However, some people in China are already worried that the rapid increase in salaries as proposed by the government would put even more pressure on inflation.