Taiwan to boost forces in disputed Spratly Islands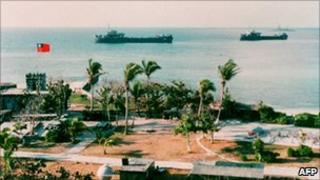 Taiwan says it is to improve the defence capability of more than 100 coastguard troops stationed in a disputed area of the South China Sea.
Some or all of the Spratly Islands and their surrounding waters are claimed by Taiwan, China, the Philippines, Vietnam, Malaysia and Brunei.
Troops stationed there will be trained by the Defence Ministry's elite Marine Corps to carry out sea combat.
The move is designed to safeguard Taiwanese territory, officials say.
The Taiwanese coastguard says that from May or June, its troops stationed in the Spratly Islands will be trained to carry out sea combat and the prevention of amphibious attack, including landings by other countries' forces.
This will be the first time since 2000 that Taiwan will have combat-ready troops in the region, considered one of the most dangerous areas in Asia for tensions escalating into armed conflict.
Before 2000, Taiwan had marines stationed in the South China Sea, but a previous administration replaced them with coastguard personnel to reduce tensions.
Peaceful solution
Taiwan's decision was announced shortly after the Philippines upped the pressure recently by lodging a protest at the United Nations against China's claims to the area.
Officials told the BBC the latest move was part of the current administration's desire to safeguard Taiwanese territory, and was not linked to the recent protest to the UN by the Philippines.
The administration in Taiwan, which is friendly towards China, rejects any suggestion that it might be working with its former rival China to ensure that ethnic Chinese people, and not others, retain control over the disputed area.
Meanwhile, Taiwan has issued a statement reiterating that it wishes to solve disputes peacefully and is willing to jointly explore the area's natural resources with other countries.
Last year, China sharply rebuked US Secretary of State Hillary Clinton when she said the US supported the freedom of navigation in the area and offered to facilitate multilateral talks on the disputes.