Australia military abuse may lead to payouts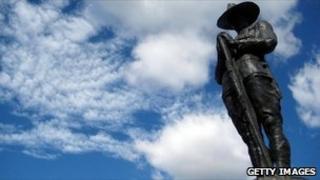 Australian Defence Minister Stephen Smith has said compensation might have to be paid to victims of bullying and sexual abuse in the country's military.
The defence minister has set up a string of inquiries into the issue.
He says some of the claims against his department date back to the Vietnam War.
The country's military has been rocked by a series of scandals in recent months raising concerns about a culture of sexism, homophobia and bullying.
One such incident involved a page set up on Facebook vilifying allegedly gay members of the defences forces.
'Phenomenal costs'
Another which emerged earlier this month, known as the Skype scandal, involved a female cadet at the defence academy in Canberra.
The 18-year-old had consensual sex with a fellow cadet, which was secretly filmed and broadcast via webcam to a group of men in another room.
Since then, many former defence employees have come forward with allegations of rape, sexual abuse and bullying during their time in the military.
No collective law suit, known as a class action, has yet been mounted.
But the head of the Vietnam Veterans Association of Australia said the costs could be phenomenal were it to succeed.