Cambodian artists make waves in art world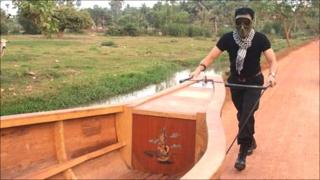 The man with the boat clearly means business.
He is pushing the trailer-mounted vessel by hand down a red, dirt road - walking as quickly as a soldier barracked by a splenetic sergeant-major.
His choice of clothes matches the military theme: black from toe to neck, like the Khmer Rouge troops which took control of Cambodia's towns and cities in the 1970s.
A camouflage-green facemask completes the outfit, covering the boat-pusher's features, making him as inscrutable as Iron Man.
But Svay Sareth is neither a soldier nor a superhero. He is an artist, and this is part of his work - a performance and multimedia exhibition called Tuesday.
Sareth had made the small, traditional canoe by hand without any previous boat-building experience. And its short journey over land was highly symbolic - from his home on the dusty, semi-rural outskirts of Siem Reap to a five-star hotel in Cambodia's prime tourist location near the Angkor temples.
It reflects the distance Cambodia has come over the past decade or so, since the final surrender of the Khmer Rouge - but also Sareth's personal journey.
He spent most of his childhood in a refugee camp on the Thai-Cambodian border, where the closest he got to national treasures like Angkor Wat was in his imagination.
"I was too young to have any memories of Cambodia," he explains. "But I would always dream of going back and the way I found to express that was to draw a picture of a little boat.
"Later, as an adult, I read Robinson Crusoe, and that really struck a chord with me. Making the boat was a way to make something out of everything I had been feeling."
Sought-after
Sareth has been something of a pioneer for Cambodian artists. He notes that most of the country's art history was "erased" by three decades of war.
But he has played his part in changing that - firstly by taking art lessons in the refugee camp, then co-founding an art school when he finally made it back to Cambodia in the 1990s.
More recently, he left again, this time for France and fresh artistic inspiration.
Sareth discovered different ways of expressing himself including performance and boat-building, a considerable leap from the traditional Cambodian emphasis on painting and sculpture.
"I didn't want to become a European artist," he says, "but it was necessary for the growth of my dream."
Now in his 40s, Sareth is back in Cambodia, and at the vanguard of a group of artists making a name both for themselves and the country's visual arts.
The opening of Tuesday at the Arts Lounge in the Hotel de la Paix drew a large crowd of international visitors and Siem Reap residents. And the interest in Cambodian artists now goes far beyond the country's borders.
It is Sareth's similarly-aged contemporaries who are making the biggest impression. Pich Sopheap's rattan and bamboo sculptures have graced galleries as far apart as Australia and the United States.
And Leang Seckon's multimedia works and performances have taken him from the Fukuoka Biennale in Japan to a solo show in London.
"I have been involved in selling Cambodian art works to various museums around the world," says Sasha Constable, a British artist who is the curator of the Arts Lounge.
"Cambodian art is becoming more sought-after and popular. And that's great for the artists, because they are being collected and invested in. They were young children during the Khmer Rouge regime, and there is such a depth to their work."
That is certainly the case for Svay Sareth.
He has arranged for the Arts Lounge to be partially flooded, to better accommodate his boat and the other works placed around the space. They include the figure of a fisherman, a collection of gold-sprayed found objects and paintings of fighting fish.
For Sareth they speak of Cambodia's past, present and future - from the flight of refugees by boat in the 1970s to the more recent border conflict with Thailand.
"It is important to show what you can do with modern art in Cambodia," he says.
"It is a way to explain what I have been through and also what the country has been through. To show something beautiful can come out of it.
"War is going to continue everywhere in the world - and I'm going to continue making art."