Australia defence cadet prompts live sex film probe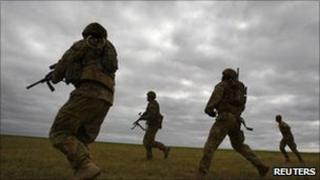 The Australian federal police has been asked to investigate sex allegations at the country's defence academy.
A female cadet claims that she was filmed having sex with a fellow cadet, who broadcast it live to his friends.
It's the latest sex scandal to hit the Australian Defence Force.
A recent report on the naval vessel, the HMAS Success found that "predatory sexual culture" existed, with senior sailors engaging in alcohol-fuelled public sex acts.
The 18-year old female cadet claims that she had consensual sex with a fellow first-year cadet, which was then transmitted via webcam to six other cadets watching on a computer in another room.
She said her world came crashing down after being approached by investigators who had been tipped off by another cadet, and that she was physically sick during an interview in which she was told that still photographs had also been distributed at the academy.
Predatory
The Australian federal police has now been called in to investigate at the Defence Academy in Canberra, whose commanding officer said that the military careers of the men facing the allegations could be terminated if they were found guilty of criminal wrong-doing.
This is the latest in a series of scandals to have damaged the reputation of the Australian military.
In February, the Defence Department released a report chronicling what it called a culture of predatory sexual behaviour on board the naval supply ship, HMAS Success.
It revealed a fiercely tribal culture in which women sailors were treated with disdain, alcohol was badly misused and discipline had broken down.
Only two weeks ago, another investigation was launched after Australian soldiers serving in Afghanistan allegedly posted racist messages about Afghans on the social networking site, Facebook.
Recently, the Australian Defence Force also raised the possibility of introducing compulsory breath testing to cut down on the drunkenness of its sailors.