Thailand flood death toll rises as rains ease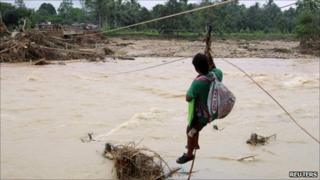 Severe floods in southern Thailand have killed 53 people, officials say, as rains begin to ease after two weeks.
The unseasonably wet weather has inundated 10 provinces, affecting two million people and forcing more than 40,000 to flee their homes.
Thousands of roads and bridges and hundreds of buildings have been damaged, and swathes of land remain swamped by flood waters.
The cabinet has allocated 6.13bn baht (£120m) to help flood victims.
Many of those killed were swept away by flash floods or buried in mudslides caused by the unseasonable downpours.
One person is missing in Nakhon Si Thammarat, one of the worst-hit provinces, the public health ministry said.
The bad weather has hit transport facilities - last week thousands of foreign tourists were stranded on islands in the Gulf of Thailand and Andaman Sea.
The Thai navy was sent in to rescue people from Koh Samui and Koh Phangan, where food and water was running low.
Ferry and air links have since resumed to most tourist hubs.
Troops have been sent to help victims in 10 provinces: Surat Thani, Krabi, Nakhon Si Thammarat, Phatthalung, Chumphon, Trang, Phangnga, Satun, Songkhla and Narathiwat.
More than 10,000 soldiers have been deployed with heavy machinery to deliver aid and repair damaged infrastructure.
Floods late last year in the south of Thailand left more than 200 people dead.