US concerned over Vietnam activist Cu Huy Ha Vu jailing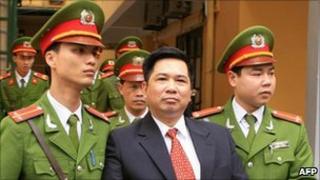 The US has criticised Vietnam for jailing activist Cu Huy Ha Vu, the son of a revolutionary leader, convicted of spreading anti-government propaganda.
US state department spokesman Mark Toner said the "apparent lack of due process" at Vu's trial was troubling.
He said the conviction raised serious questions about Hanoi's commitment to the rule of law and reform.
Vu had called for an end to one-party rule and had twice tried to sue the country's prime minister.
During his trial, he told the court he was innocent of the charges, saying: "This criminal case was invented against me. This case is completely illegal."
But the Hanoi judges said his behaviour had been "harmful to society".
"His writings and interviews blackened directly or indirectly the Communist Party of Vietnam," said Judge Nguyen Huu Chinh.
Vu's lawyers walked out of court after the judge refused to make public 10 interviews he was accused of conducting with foreign media - key parts of the case against him.
After the trial, one of his lawyers Tran Dinh Trien said there had been a "serious violation of the law" during the proceedings.
"We request the Court of Appeal to abolish this preliminary verdict and to hold a re-trial," he said.
Foreign journalists were kept outside the main courtroom, and watched the proceedings on CCTV, the Associated Press reported.
Vu was sentenced to seven years in jail and three years of house detention.
The 53-year-old legal expert had advocated a multi-party system and called for democratic reforms in Vietnam.
He also tried to sue the Vietnamese prime minister twice over a mining project he said would harm the environment.
Vu is the son of a Cu Huy Can, a celebrated poet who was also a leading revolutionary and confidant of President Ho Chi Minh.