China executes three Filipinos for drugs smuggling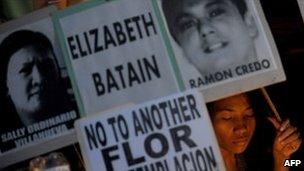 China has brushed aside appeals for clemency and executed three Philippine citizens arrested in 2008 for smuggling heroin into the country.
Philippine Vice-President Jejomar Binay said he had received word of the executions on Wednesday from Philippine diplomats.
The two women and one man were arrested separately carrying packages containing at least 4kg (8lb) of the drug.
They were allowed to see their families before their executions.
Elizabeth Batain, 38, was executed at a prison in the southern city of Shenzhen.
Sally Ordinario-Villanueva, 32, and Ramon Credo, 42, were put to death in the port city of Xiamen.
They were the first Filipinos to be executed in China for drug trafficking, Philippine officials said.
The families of two of the prisoners had sent open letters appealing for clemency, arguing they had been duped by others.
But China's foreign ministry said drug trafficking was a serious offence and that justice had been served.
Related Internet Links
The BBC is not responsible for the content of external sites.