Two Koreas meet on volcano risk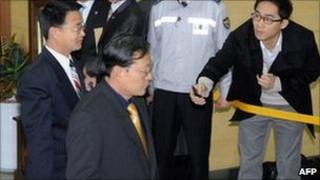 The two Koreas have held talks at the South Korean border town of Munsan about setting up a joint research project into volcanic activity.
It is their first attempt at dialogue since defence talks broke up in acrimony in February.
The meeting came two days after 27 North Koreans who drifted into Southern waters in February were repatriated.
Their return was delayed by a row over four border-crossers who chose not to leave South Korea, angering Pyongyang.
North Korea proposed studies about its highest mountain, Mount Paektu, in mid-March in the wake of the Japanese earthquake.
Mount Paektu - where North Korea says its leader Kim Jong-il was born - last erupted in 1903 but is believed to retain an active core.
A delegation of 13 North Koreans led by Yoon Yong-geun came to the meeting and held talks with four South Korean geologists.
South Korea's Unification Minister Hyun In-taek was reported last week as saying that the joint research could develop into "a whole new level" of cross-border projects.
Talks on the larger issue of ending the North's nuclear programme remain stalled by South Korea's call for a "heartfelt apology" from Pyongyang for what Seoul calls two acts of aggression by the North.
These are the sinking of a warship, the Cheonan, on 26 March last year with the loss of 46 South Korean sailors' lives, and the shelling by North Korea of Yeonpyeong Island last November, which killed four people.
North Korea denies involvement in the first incident and says it was provoked by South Korean military exercises into the second.
China's veto at the United Nations Security Council prevented direct sanction of North Korea for these incidents.
China and North Korea have expressed readiness to restart the six-nation talks on ending North Korea's nuclear programmes "without preconditions".