Nancy Kissel guilty of Hong Kong 'milkshake murder'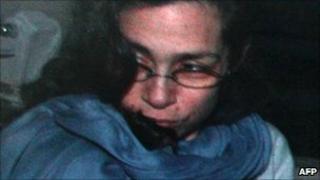 A Hong Kong jury has unanimously found American Nancy Kissel guilty of murdering her husband by lacing his milkshake with a sedative and beating him to death.
Kissel had admitted manslaughter but denied deliberately killing senior banker Robert Kissel in 2003.
She was sentenced to life in 2005 but a judge ordered a retrial citing procedural flaws.
The case has captivated Hong Kong with its tales of death, drugs and adultery.
Kissel had sobbed during the trial, as the defence said she was suffering from mental illness at the time of the killing and had been badly treated by her husband, the BBC's Annemarie Evans in Hong Kong says.
Kissel's defence team had argued she was the victim of a violent husband who abused drugs and alcohol.
But the prosecution said the murder was premeditated, and that Kissel had given her 40-year-old husband a strawberry milkshake spiked with sedatives before cracking his skull several times with a heavy statuette.
She had tried to dispose of his body by rolling it up in a carpet and putting it into a storage room at the luxury Parkview apartments complex on Hong Kong island.
She lost an appeal in 2008 based on her claim that she acted in self-defence as her husband was threatening her with a baseball bat.
At that trial, prosecutors argued that she had planned the murder due to her uncontrolled passion for a new lover, a TV repairman from Vermont in the US.
They alleged Mrs Kissel had stood to gain up to $18m (£11m) in life insurance payouts from her husband's death.
The lurid story of the collapse of an expatriate marriage has fascinated Hong Kong, inspiring books and a film.