Community spirit shines through in Japan's dark times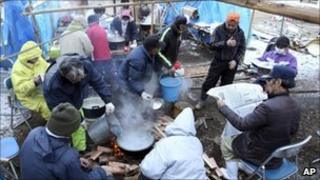 The village of Odachi, just outside Ofunato in Iwate prefecture, is like so many others along Japan's coast.
Homes splintered, lives destroyed.
When the tsunami thundered in, it swept right up the little valley the community nestles in, between the cedar-fringed hills.
Buildings were flung about, and came to rest at the high-water mark.
Shuichi Shida was luckier than most. His family survived and he even remembered the dog when he ran to safety.
His house stood while those around it were destroyed.
But the wave smashed right through, even upstairs. His home will probably have to be knocked down.
"It's been nearly two weeks since the tsunami," he says. "I still have no idea what to do."
Japan's government has marshalled its military in a massive aid operation, but the people are also trying to help themselves.
'Close relationships'
Every mealtime in Odachi, the survivors head up to the three houses belonging to the extended Kino family, at the top of the hill.
Much of the village is living there now.
They have set up a communal kitchen in the garden, using blue tarpaulins to screen off an area.
The cooking is done on open fires, which have big pots of water boiling on them all day.
The men, filthy from scavenging for belongings in the ruins, sit for a smoke and a chat, while the women prepare miso soup with vegetables, hard-boiled eggs and seaweed for dinner.
The children play football.
Adversity has brought people together.
Inside the Kinos' homes, futons have been laid out on the floor, so everyone has somewhere to sleep.
The only lighting is from candles because there is no electricity. A wind-up radio is on to hear the latest news.
There is no privacy, but no-one is complaining.
Wreckage cleared
"My family and I don't have any problem with this," says Makiko Kino, mother to three small boys. "It's the opposite in fact and I am rather enjoying this. There are so many children around it's a lot of fun.
"It's the countryside here. We have a close relationship with our neighbours. We have known each other for so long it is not an issue."
The village has been given tents by a British charity, Shelterbox.
The idea is that everyone will have more space.
The villagers cleared the wreckage from a field to pitch them side by side.
"If I'd been alone it would have been very difficult to stand," says Shuichi Shida. "But all of the neighbours have combined our resources.
"We've worked together, to make a bath, put up tents, chop wood for fuel. We co-operate and we even manage to laugh."
There is no hurry to move out of the Kinos' houses where everyone has been sleeping.
Japan has never lost its sense of community and in dark times it is shining through.
This nation's great disaster has brought out the best in its people.