Tsunami-stranded porpoise rescued from Japan rice field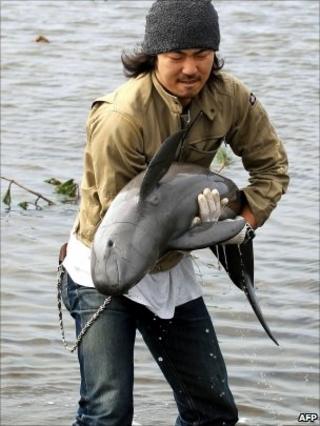 A baby porpoise that was washed over a mile (about 2km) inland by Japan's tsunami earlier this month has been rescued from a flooded rice paddy.
Local people spotted the animal more than a week after the 11 March disaster and alerted animal rescue workers.
One man eventually caught the finless porpoise in his arms and carried it back out to sea.
Rescuers said the metre-long mammal had suffered a few scratches but was otherwise healthy.
"Immediately after I spotted it, I realised I could not ignore it. I had to do something," Masayuki Sato told the Asahi newspaper.
"This was also a victim of the tsunami."
He telephoned the animal welfare group, who were in the area rescuing pets stranded by the disaster.
They fashioned a stretcher but volunteer Ryo Taira eventually waded into the rice field and caught the animal himself.
"I don't know if it will survive, but it's much better than dying in a rice field, right?" he told the newspaper.
The death toll from Japan's quake and tsunami has risen to 9,523. Another 16,094 people are listed as missing.