Tomohiro Kato sentenced to death over Tokyo stabbings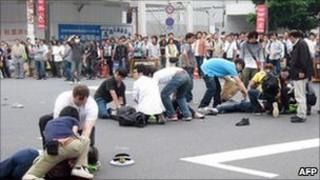 A Japanese man who admitted killing seven people in Tokyo in 2008 - by driving over some and stabbing others - has been given the death penalty.
Tomohiro Kato had driven a car into pedestrians in a central shopping district. Three of them died.
Kato, 28, then stabbed passers-by, killing four people and wounding several others, before being arrested at the scene.
During the trial he said he had been angered by online bullying.
The Tokyo District Court handed out the penalty after Kato told the court he was "fully responsible" for the attacks.
"The defendant used a knife to attack those who just happened to be there and took the lives of many people who were completely innocent," said judge Hiroaki Murayama.
"It was a brutal crime that did not indicate a shred of humanity on the part of the defendant. I have no choice but to sentence him to death."
Bullying
The killing took place in the Akihabara district of Tokyo, a centre for the manga comic and anime film subculture, in June 2008.
Kato said: "I wanted people to know that I seriously wanted to stop the harassment on the internet bulletin board that I used."
Japan's Kyodo news agency reported that Kato had posted messages on a mobile phone bulletin board complaining about his job and giving notice of his intention to commit the crime.
Laws on knife ownership were tightened up after Kato's killing spree.
Official figures in Japan put support for capital punishment at over 80%.
A total of 107 inmates remain on death row in Japan. Prisoners are usually executed two or three at a time.