Malaysia DNA ruling overturned in blow for Anwar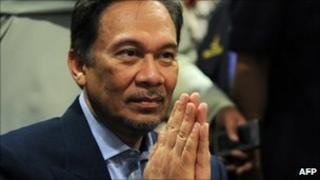 The judge hearing sodomy charges against the Malaysian opposition leader Anwar Ibrahim has reversed an earlier ruling to now allow key DNA evidence.
Judge Zabidin Mohamed Diah had earlier barred the use of DNA taken from items used by Mr Anwar in a police cell.
After a prosecution appeal, he has said it can be used as Mr Anwar's arrest and detention were "lawful".
Mr Anwar and rights groups say the trial - the second on the same charges - is a political conspiracy.
"It is clear that (Anwar's) arrest was lawful and the detention was for a lawful purpose," the judge said.
"This court has no choice but to allow these items to be tendered (as evidence). My earlier ruling in the matter is reversed," he said.
However, he said the court would not require Mr Anwar to provide a new DNA sample - something Mr Anwar has refused to provide voluntarily for fear, he says, of tampering.
"We disagree with the decision because the judge says the arrest was legal but it wasn't just the issue of the arrest alone, it was also the violation of lockup rules and many other issues," Mr Anwar's lawyer, Sankara Nair, told AFP.
"There has also been no evidence given by any of the police officers at the lockup that these items were actually used by Anwar," he added.
The prosecution argues that the DNA from the items would link Mr Anwar to semen found on his accuser, his former aide Mohamad Saiful Bukhari Azlan.
The items - a toothbrush, water bottle and hand towel - were taken from the cell used by Mr Anwar following his arrest in 2008.
"This is unprecedented that just in a matter of weeks, days the judge reversed his earlier decision to not allow evidence taken through unlawful means and trickery and deception," the opposition leader said.
"We remain confident. I have said that I'm innocent," he added.
Human Rights Watch has said the charges should be dropped and that the case is a "charade of justice".
Mr Anwar was imprisoned on separate sex and corruption charges in 1998, and freed on appeal in 2004.
Sodomy is illegal in Malaysia, even among consenting adults.