Komodo dragons missing from Indonesian zoo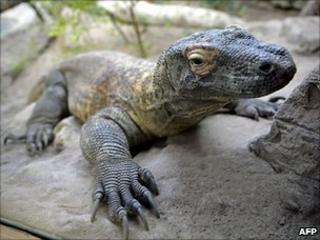 Three young Komodo dragons have gone missing at a zoo in the Indonesian city of Surabaya.
The reptiles, which are about a year old and about 50cm (20in) to a metre in length, disappeared earlier this month.
It is not known whether they were eaten by predators, stolen or escaped from their cages.
Komodo dragons are the world's largest lizards; they can grow up to 3m (10ft) long, have razor-sharp teeth and a poisonous bite.
The three reptiles were being housed in a special display cage along with 18 other Komodos, the Jakarta Post reported.
"We haven't even figured out their sexes because it was still rather hard to determine [at such an early age]," zoo spokesman Agus Supangkat said.
"We're worried if the Komodo dragons escaped. They're dangerous; young Komodos, like the ones missing, love to climb trees and can move very fast," he said.
A police investigation is under way.
The reptiles are unique to a small group of islands in eastern Indonesia.
The animals are endangered in the wild and protected by international law, but are sometimes illegally smuggled as exotic pets.
"The baby Komodos could have been sold to foreign buyers who own private zoos. The demand for exotic animals from Indonesia is very high," conservationist Rosek Nursahid told the Jakarta Globe.