Philippines votes to impeach anti-corruption chief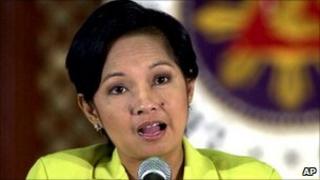 The Philippine lower house of parliament has voted to impeach the head of the anti-corruption agency.
The ombudsman, Merceditas Gutierrez, is accused of failing to investigate allegations of corruption against former President Gloria Arroyo and other high-ranking officials.
Ms Gutierrez denies the charges but could lose her job if the upper house also agrees with the impeachment.
If she is found guilty, it could clear the way to prosecute Mrs Arroyo.
After a lengthy debate, three-quarters of the lower house of Congress voted in favour of impeaching Mrs Gutierrez.
She has been accused of betraying public trust by failing to act on several corruption allegations made against former President Arroyo, her family and associates.
The decision was widely expected - the lower house is dominated by allies of current President Benigno Aquino, who has made it clear that he wants his predecessor investigated for claims that she illegally profited from her time in power - claims Mrs Arroyo vehemently denies.
It is less clear whether the upper house will be so keen to find Ms Gutierrez guilty when it meets in May as it is less dominated by President Aquino's supporters.
But if it does, Ms Gutierrez will lose her position and be banned from holding any subsequent public office.
Her boss and close friend, Mrs Arroyo, will have one less ally in a political landscape that is looking increasingly hostile.