Japan earthquake: Slow progress at nuclear plant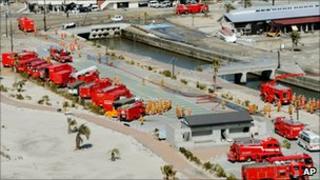 Emergency workers in Japan say progress has been slow as they struggle to stabilise the quake-crippled Fukushima Daiichi nuclear plant.
They have been dousing reactors using helicopters and fire hoses, and are now battling to restore electricity.
The UN nuclear watchdog chief said in Tokyo it was a race against time.
Across Japan people paused to observe a minute's silence, exactly a week after the disaster, which has left more than 16,000 people dead or missing.
Survivors weep
Relief workers in the disaster zone bowed their heads and elderly survivors in evacuation centres wept as the country showed respect for the dead at 1446 local time (0546GMT), seven days on from the quake.
International Atomic Energy Agency (IAEA) chief Yukiya Amano, a Japanese citizen, said in Tokyo he would not visit the Fukushima Daiichi nuclear plant on his current trip to Japan.
He said his four-member team of nuclear experts would start by monitoring radiation in the capital, before moving to the vicinity of the quake-hit facility, reports Kyodo news agency.
"This is not something that just Japan should deal with, and people of the entire world should co-operate with Japan and the people in the disaster areas," he said.
Japanese police say 6,405 people are known to have died and around 10,200 others are missing after last week's magnitude 9.0 quake triggered a tsunami.
But Kyodo reports that the official toll is based on names registered with police, and that the true figure could be in the tens of thousands.
The atomic crisis was triggered when the power supply to Fukushima, about 240km (150 miles) north of Tokyo, was damaged by the natural disaster and back-up generators failed.
There have been a number of explosions in the reactor buildings since then.
Smoke was reported to be billowing from the plant on Friday morning and it was not clear what was causing it.
Bury the plant?
Fukushima Daiichi's operator reportedly said on Friday the utility was not ruling out the option of entombing the plant in concrete as a last resort to prevent a catastrophic radiation leak.
The method was used during the Chernobyl nuclear disaster in Ukraine in 1986.
"It is not impossible to encase the reactors in concrete. But our priority right now is to try and cool them down first," an official from the Tokyo Electric Power Co told media, reports Reuters news agency.
Fire engines are being mobilised from as far away as Tokyo in a bid to hose the reactors down.
Television pictures showed water jets being turned on the reactors. Helicopters have also been dumping water on the plant.
Officials say they are also hoping to fix electricity cables from the grid to at least two of the six reactors on Friday.
Power is needed to restart pumps to pour cold water on overheating fuel rods and avert a major radiation leak.
Power may then be restored to reactor 2 as early as Friday night and to reactors 3 and 4 possibly by Sunday, Japanese news agencies reported.
Even if the engineers manage to connect the power, it is not certain that the pumps will work as they may have been damaged in the earthquake or subsequent explosions.
At a press conference, Japan's Chief Cabinet Secretary Yukio Edano insisted radiation levels had not been serious enough to affect human health, although he conceded that there had been some higher readings.
He said reactor 3 remained the greatest concern and would be sprayed continuously.
Mr Edano also denied reports that Japan had rejected US offers of help.
Japan has imposed a 20-km (12-mile) exclusion zone around Fukushima and has urged people living up to 30km away to stay indoors.
Some countries have advised their nationals in Japan to stay up to 50km away or to leave the country entirely.
Police said more than 450,000 people have been made homeless by the disasters. Some are sleeping on the floors of school halls.
Bitter winter weather has added to their misery.
Outside the immediate quake zone, tens of thousands of homes are said to be without electricity and the government estimates more than 1.6m households have no running water.
Aid workers have appealed for more help as supplies of fuel, medicine and other necessities are running short.
To see the enhanced content on this page, you need to have JavaScript enabled and
Adobe Flash
installed.