Fourth book bomb attack in Indonesia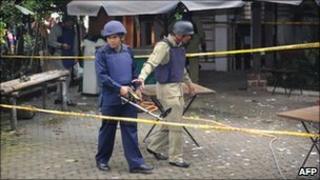 A mail bomb has been sent to a well-known Indonesian singer - the fourth such incident in less than a week.
Like the previous packages, it contained an explosive device hidden in a hollowed-out book.
The bomb was defused without anyone getting injured.
There is, however, mounting concern over the number of these attacks, which have all targeted people known to espouse religious tolerance.
Indonesia has the largest population of Muslims in the world, but it is a secular country and there is an increasing divide between hardline Islamic groups and those with more moderate views.
'Old forces'
The first book bomb was addressed to Ulil Abshar Abdalla, a prominent politician known for his liberal opinions.
Later that day, a former counter-terrorism chief received a similar package. So did the chairman of a youth organisation seen as a rival to Islamic fundamentalist groups.
The latest recipient, Ahmad Dhani, is a musician who has been openly critical of hardline Muslims in the lyrics of his songs.
No one has admitted sending the packages, but the head of Indonesia's anti-terrorism agency, Ansyaad Mbai, said the mail bombs were probably sent by one of several militant groups that have been active in the country in recent years.
"Old forces are behind this," he told the BBC.
The country has been notably targeted by the South East Asian group Jemaah Islamiah, which has links to Al-Qaeda.
It has been accused of a string of attacks, the largest being the Bali bombings of 2002, which killed more than 200 people, many of whom were foreign tourists.
In a televised address, President Susilo Bambang Yudhoyono urged the police and military to not "give anyone the opportunity to rip apart the security situation".
But tensions are increasing between hardline Muslims and other sectors of Indonesian society.
Last month an angry group of hardliners burned two Christian churches, to protest against a court judgement against a Christian which they deemed far too lenient.
Another mob attacked members of a small Islamic sect called the Ahmadiyah, killing three people.
Hardliners are putting pressure on the government to ban the Ahmadiyah completely, saying that because the Ahmadis' faith deviates from the tenets of Islam, they are violating the country's laws against blasphemy.
The national government has so far not granted this request, but several local authorities have issued decrees limiting the Ahmadis' activities and encouraging them to convert to mainstream Islam.
Indonesia is known for its religious tolerance and pluralism, but increasingly this reputation is under threat.