Japan earthquake: New fire at Fukushima nuclear plant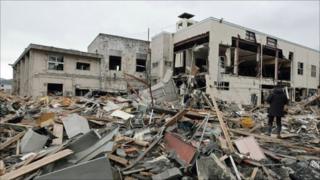 Fire has again broken out at a quake-stricken nuclear plant in north Japan.
A blaze struck reactor four of the Fukushima Daiichi plant for the second time in two days. Officials later said it appeared to be out, but smoke was then seen rising from reactor three.
Friday's 9.0-magnitude earthquake and tsunami, which killed thousands, damaged the plant's cooling functions.
The site has also been hit by several explosions, triggering radiation leaks and sparking health concerns.
Officials have warned people within 20-30km (12-19 miles) of the site to either leave the area or stay indoors.
The new fire at reactor four was reported early on Wednesday. Three hours later, Japan's nuclear safety agency said flames could no longer be seen.
But white smoke was later seen rising from reactor three.
Government spokesman Yukio Edano told reporters that radiation levels at the plant had risen rapidly on Wednesday morning, and that workers had to be withdrawn.
Twenty-four hours earlier, on Tuesday morning, another fire broke out in the spent fuel storage pond at reactor four.
The reactor had been shut down before the quake for maintenance, but its spent fuel rods were still stored on the site.
Kyodo news agency says the storage pool may be boiling and further radiation leaks are feared.
The Tokyo Electric Power Co (Tepco), which operates the Fukushima plant, said it may pour water and fire retardant from helicopters to stop fuel rods from being exposed to the air and releasing even more radioactivity.
The crisis at the plant - which contains six nuclear reactors - began when the earthquake struck. Explosions rocked the buildings housing reactors one and three on Saturday and Monday.
On Tuesday morning, a third blast hit the building of reactor two, while a fourth damaged the building of reactor four.
Officials said the explosions at the first three reactors, and possibly the fourth as well, were caused by a buildup of hydrogen.
Chief Cabinet Secretary Yukio Edano said cooling seawater was being pumped into reactors one and three - which were returning to normal - and into reactor two, which remained unstable.
Japan's nuclear safety agency said earlier it suspected the blast may have damaged reactor two's suppression chamber, which would have allowed radioactive steam to escape.
Health hazard
After Tuesday's explosions and fire, radiation dosages of up to 400 millisieverts per hour were recorded at the Fukushima Daiichi site, about 250km north-east of Tokyo.
A single dose of 1,000 millisieverts causes temporary radiation sickness such as nausea and vomiting.
Later, a reading of 0.6 millisieverts (mSv) per hour was recorded at the plant's main gate, the International Atomic Energy Agency (IAEA) said.
Japan has also announced a 30-km no-fly zone around the site to prevent planes spreading the radiation further afield.
Three other nuclear power plants shut down automatically during Friday's earthquake.
The loss of so much generating capacity in one blow has meant rolling blackouts have had to imposed on parts of the country.
The repeated releases of different amounts of radiation - some large, some small - are unnerving the Japanese and their neighbours, who want reassurances that the situation will soon be brought under control, says the BBC's Chris Hogg in Tokyo.
US President Barack Obama defended nuclear power as an important source of energy, despite new questions raised about its safety.
In a television interview on Tuesday, he said he was "deeply worried" about radiations leaks in Japan, but added: "The nuclear facilities that we have here are closely monitored... I do think that it is important for us to think through constantly how we improve nuclear technologies to deal with additional safety concerns that people have."
On the Tokyo stock exchange, the Nikkei index rose 6% in early trading on Wednesday, after plummeting 17% over the previous two days.
More than 3,300 people have been confirmed dead and thousands are missing after Friday's quake and tsunami.
More than 500,000 people have been made homeless. The government has deployed 100,000 troops to lead the aid effort.
The UK Foreign Office has updated its travel advice to warn against all non-essential travel to Tokyo and north-eastern Japan. British nationals and friends and relatives of those in Japan can contact the Foreign Office on +44(0) 20 7008 0000.