Japan earthquake: Tokyo jittery under surface calm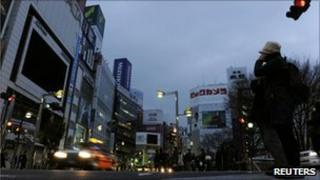 Tokyo was not badly damaged by Friday's earthquake or the tsunami but growing unease over the radiation leaks from the stricken Fukushima nuclear power plant has reached the capital, says the BBC's Roland Buerk in Tokyo.
On the surface the city is still deceptively normal.
The usual man is behind the till at the convenience store where I buy my daily paper, still giving a cheery hello.
I bumped into my neighbour last night, coming home from work, late in the evening as usual from his job at the bank.
His wife has told him she is staying put in their flat and has no intention of going anywhere.
There are taxis waiting at the rank down the street.
In the early hours a few late night revellers were going home.
Empty shelves
But look a bit closer and the concern people are feeling here about radiation leaks at the Fukushima nuclear power station is clear.
After explosions and a fire, which seeped radiation into the atmosphere, there is unease about what could happen next.
There are fewer cars on the streets than normal.
There are queues an hour long and more for petrol, although the attendants are still politely manning the pumps, bowing when customers leave.
In some places only 10 litres is available at a time, others have run out.
Shelves are bare in some shops as people buy up food.
Tokyo's stock market has seen two days of heavy losses.
Foreigners have been leaving in increasing numbers.
Austria has moved its embassy from Tokyo to Osaka. Britain is advising against all non-essential travel to Tokyo.
Japan's Prime Minister Naoto Kan has urged people to remain calm.
The government has imposed an exclusion zone 20km (12 miles) around the plant and urged people living within 30km to seal themselves indoors.
Adding to the jitters just as people were going to bed on Tuesday night there was another tremor, this time a bit larger, and longer than before.
But most people remained inside their homes and went to sleep.