Parcel bomb targets Indonesian politician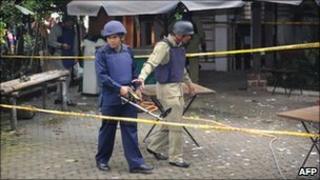 A bomb has exploded at the office of a moderate Islamic group in Indonesia's capital, Jakarta, injuring at least two people including a policeman.
The bomb was in a package addressed to a politician who frequently speaks out against religious extremism.
No one has admitted sending the package, but tensions have been growing in recent months between moderate and hardline Muslim groups.
Violent attacks sparked by religious intolerance have increased recently.
As soon as they received the package, security guards at the office of the Liberal Muslim Network were suspicious.
They said they could see it contained cables so they called the police. But while an officer was checking the package, it exploded.
The policeman's hand was blown off, and a guard was also injured.
The bomb had been placed inside a book which had the title They Need to be Killed for their Sins Against Islam and Muslims.
Its intended recipient, Ulil Abshar Abdalla, is both a member of the Democratic Party and an outspoken critic of religious hardliners.
Indonesia has the largest population of Muslims in the world but is a secular country, and there is a big divide between the views of hardline Islamic groups and liberals such as Mr Abdalla.