Indonesia nuclear reactor plans 'to go-ahead'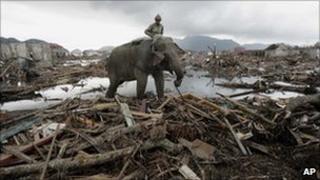 Indonesia says it will go ahead with its plans to build a nuclear reactor, even as Japan battles to contain the radiation leak at its Fukushima plant.
Jakarta's plans have already been changed once but officials insist the plant, set for Sumatra, will be safe.
There are renewed concerns about the safety of nuclear energy in Indonesia which is on the Pacific Ring of Fire.
This is one of the most seismically active regions on earth and regularly suffers from earthquakes and tsunamis.
The huge Asian tsunami hit the province of Aceh in 2004, killing at least 170,000 people.
There have been earthquakes or volcanic eruptions almost every year since.
Full steam ahead
But proposals to build a nuclear reactor here are well under way.
A spokesman for the National Nuclear Energy Agency, Ferhat Aziz, said the reactor would play an important part in supplying Indonesia's growing energy needs.
"Indonesia, with the world's fourth biggest population, is using sources of energy that are very limited - so if there are changes in prices of oil and coal, we'll be very disrupted.
"So nuclear is one of the ways to diversify our courses of energy and maintain our energy security," he said.
By 2025 Indonesia hopes to generate 4% of its power from nuclear energy.
But all is not going to plan.
The original proposal to build a reactor in central Java is now on hold after locals complained that it was near a fault line.
Now there's a new plan off the coast of Sumatra - which is further from fault lines, but more expensive, as the electricity will have to be sent to the more populous island of Java through underwater cables.
"Based on the readily available data that we've studied, the location is very stable. It's never felt a major tremor, there are no volcanoes nearby, it's safe from a tsunami, the geology of the land is appropriate for a nuclear power plant," said Mr Aziz.
The plans are still being studied, but Mr Aziz is confident that the proposed nuclear reactor would be perfectly safe.
But in the light of what's happening right now in Japan, countries like Indonesia are likely to come under increasing international scrutiny as they try to solve their energy needs by going nuclear.