North Korea 'ready to discuss nuclear enrichment'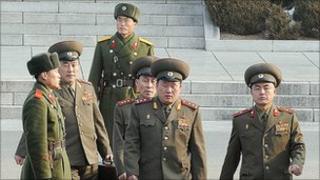 North Korea has told Russia's deputy foreign minister Alexei Borodavkin that it is ready to discuss its nuclear enrichment plans at six-party talks.
The issue is one of several that have blocked the resumption of disarmament talks. South Korea also wants an apology for the North's "aggression".
Separately, a South Korean envoy is on his way to Russia to pursue talks.
The new flurry of diplomacy comes just over a month after talks between North and South Korea broke up in acrimony.
North Korea's state news agency, KCNA, reported comments from Pyongyang's foreign ministry after a four-day visit by Mr Borodavkin.
"The DPRK (North Korea) is willing to come to the six-party talks unconditionally," Pyongyang's foreign ministry said.
KCNA quoted a ministry spokesman as saying that the North did "not object to the issue of uranium enrichment programme being discussed at the talks".
Mr Borodavkin held meetings with the North Korean Foreign Minister Pak Ui-Chun and other North Korean officials, South Korea's Yonhap news agency reported.
Nuclear fears
South Korea's deputy envoy to the six-party disarmament talks, Cho Hyun-Dong, has left Seoul on his way to Russia where he plans to meet Mr Borodavkin and other officials.
The existence of an apparently functioning nuclear enrichment plant in the North was only revealed to the US last November.
Pyongyang says it is part of a peaceful energy programme, but the US and others have expressed fears it could be part of what they believe is the North's nuclear weapons programme.
The six-party disarmament talks - involving North and South Korea, China, Japan, the United States and Russia - have been stalled for two years.
North Korea left the talks in April 2009 and staged a second nuclear test in May that year.
Calls by South Korea and Russia for the United Nations Security Council to debate the North's nuclear programme have so far been rebuffed by China.
South Korea has been seeking an apology from the North for its shelling of Yeonpyeong Island, and for the sinking of a South Korean warship, the Cheonan, in March last year, which resulted in the loss of 46 South Korean lives.
North Korea denies sinking the ship and says the shelling was provoked by South Korean military exercises.