Japan earthquake: Fears and shortages in stricken Tokyo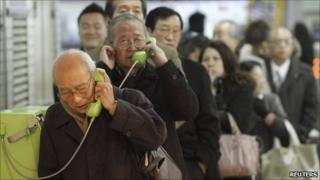 At Tokyo's Shinbashi railway station at midday, a group of passengers stood around in silence watching a television screen.
The news was on. It showed a thick plume of smoke, rising from a stricken nuclear plant north of the capital.
There had been an explosion, the second in three days, and the pundits in the studio were discussing the risks the plant now poses, to the area nearby but also to those living further away.
In the square next to the station newspaper vendors were handing out special early editions of an evening paper - just one sheet and a banner headline: "Explosion at Reactor Number 3".
There were more dramatic pictures of the smoke and flames from the Fukushima nuclear plant.
Health concerns
Office workers grabbed them, eager it seemed for any new information about the crisis the country is now facing.
An economist, an expat, told me his office was closed, the file servers were down.
But he was now concerned about his family. His child is quite young.
He did not have much confidence in the authorities' assurances that the radiation leaks from the plant did not pose a significant risk to human health.
"There've been cover-ups before," he pointed out.
Another friend, an American, said one colleague had left Japan because of concerns from their family back in the United States.
But most of the others were staying, he said.
"Some of course don't have any choice. They can't afford to just up-sticks and move," he said.
'On the ropes'
There are shortages in the shops. The supply chain for small convenience stores has been disrupted it would seem. The shelves of many are empty.
There has been some bulk-buying, no doubt, too. Petrol is getting harder to obtain.
And for parts of the city there were power cuts too, part of a rolling programme designed to conserve energy supplies.
These, it has warned, will not last for days, but weeks.
If it was not for the crisis at the nuclear plant, this city would be getting back to normal fast.
Japan knows how to deal with natural disasters.
This scale of Friday's was huge, but so now is the response from the authorities.
The problems with the reactors at Fukushima are adding a new level of uncertainty though.
It is still too early to get any accurate picture of what the costs of this crisis will turn out to be.
The Nikkei index lost 6% of its value. It could be days before the country learns how heavy a blow the disaster has landed on what was already, some would say, an economy on the ropes.