Tear gas used on Christmas Island asylum protesters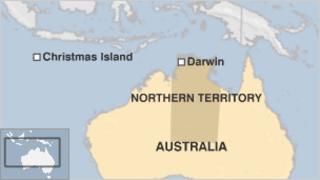 Australian police have used tear gas against more than 200 asylum seekers at the Christmas Island holding centre.
Immigration Minister Chris Bowen said more police would be sent there after the pre-dawn clash on Monday.
The clash came after about 70 asylum seekers broke out of the centre on Friday and another 100 on Saturday.
Christmas Island, off the northwest coast of Western Australia, is home to more than 2,500 asylum seekers awaiting assessment on their cases.
More than 6,500 asylum seekers arrived in Australia by boat last year, mostly from Sri Lanka, Afghanistan and Iraq.
Mr Bowen said that over-crowding and long delays were contributing to a level of frustration which had contributed to the "significant and serious incident" at Christmas Island.
Protests became tense on Sunday night, with some refugees burning fires and tackling fences.
Police were concerned "that the particular protest action had the capacity to turn more violent and they took the decision on the ground as an operational matter that that was the appropriate response", Mr Bowen said of the police decision to use tear gas.
One detainee was taken to hospital with a suspected broken leg.
'Frustrations'
Mr Bowen said he understood "people's frustrations inside detention", but said that "protest action like this does not achieve the desired result".
Refugee advocates said the unrest at the centre was provoked by staff attempts to find people who had known about the weekend break-outs.
All those who broke out of the centre are believed to have returned.
Earlier this month, the government announced it would build a new immigration detention centre in the northern city of Darwin to relieve overcrowding on Christmas Island.
"The Christmas Island facility is under pressure; it has been for some time," Mr Bowen said.
The conservative opposition believes harsher measures must be taken to deter more boats from arriving with more asylum-seekers.
Opposition Leader Tony Abbott said the detention system was "in crisis".