Thailand: More 'red-shirts' released ahead of elections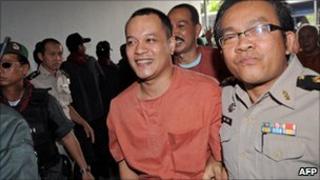 Four Thai anti-government "red-shirt" protest leaders have surrendered to police and been released on bail.
It follows the release on bail of seven top leaders in February, after nine months in jail on terrorism charges.
Those leaders addressed a large rally on Saturday to mark one year since the start of their Bangkok protests which ended violently on 19 May last year.
The latest releases come after Thai Prime Minister Abhisit Vejjajiva's said he intended to call early elections.
The four protest leaders freed on bail had been held on terrorism and other charges relating to last year's protest movement led by the United Front for Democracy against Dictatorship (UDD).
The two-month protest ended last May after a violent confrontation with government forces, which left 91 people dead and more than 1,400 injured.
Several hundred protesters were also arrested.
Several other red-shirt leaders, including the popular singer Arisman Pongruangrong, have not yet surrendered.
Election call
The series of recent releases has been linked by analysts to the plans of Mr Abhisit to hold an election.
According to his intended schedule, elections could be held in late June or early July, about six months before they are required by law.
Some of the released red-shirts have said they wish to run for parliament in those elections.
The protest movement demonstrated its continued strength on the weekend, rallying at least 35,000 red-clad protesters.
Former Prime Minister Thaksin Shinawatra - the red-shirts' figurehead who was ousted in a 2006 coup and lives in self-imposed exile - addressed the crowd via telephone.
He said the election would be a test of the strength of Thai democracy.
"Please help the Puea Thai (opposition party) win a landslide victory and then I'll solve problems and fix the economy and bring prosperity in six months," he said.
For its part, Mr Abhisit's government has promised a long list of financial benefits and welfare payments.
There is widespread scepticism that an election will be held, however, or that it will be free and fair.
Thai analysts have said an election is unlikely to heal the divisions which have only deepened since the coup of 2006 that deposed Mr Thaksin.