NZ quake: China wants higher payments as Inquiry opens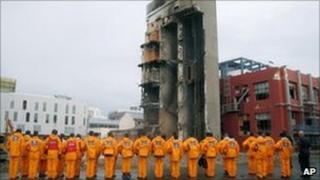 The Chinese embassy in New Zealand has requested that extra compensation be paid to parents of Chinese students lost in the Christchurch earthquake.
An embassy official, Cheng Lee, said China's one-child policy made those lost lives more valuable.
More than 60 foreign students died out of a total toll of at least 166 people.
The New Zealand government has opened a Royal Commission of Inquiry into how entire office blocks collapsed in the 22 February quake.
Prime Minister John Key said the inquiry would focus on why two buildings - the CTV and Pyne Gould office blocks - failed to withstand the magnitude 6.3 earthquake.
"So many lives have been lost as a result of the February 22 earthquake that we must find answers, particularly about why such a significant loss of life occurred in two buildings," Mr Key said in a statement.
Fair treatment
Seven Chinese nationals have been confirmed dead and another 20 remain missing. They were among more than 60 staff and foreign language students killed in the CTV building.
The King's Education language school has held a memorial to remember all the dead.
Both the Chinese ambassador Xu Jianguo and embassy officials were reported by Radio New Zealand to have asked for higher compensation payments because the one-child policy made China unique.
"You can expect how lonely, how desperate they are, not only losing loved ones, but losing almost entirely their source of economic assistance after retirement," embassy official Cheng Lee said.
Higher payments would be "a demonstration of the importance the New Zealand government attaches to the Chinese international" students, he added.
New Zealand's minister for tertiary education, Steven Joyce, said it would be difficult under New Zealand law to provide special compensation to one group of victims.
The opposition Labour Party leader Phil Goff said all the dead must be treated equally.
"I'm sorry, you can't base your policy on that, there may be many students here that are only children in their families whether they be Chinese, Japanese, Thai, Filipino," Mr Goff said.
The families of visitors killed in New Zealand are eligible for a one-off funeral grant of up to NZ$4,500 (£2,071;$3,327) and a one-off survival grant of $4,700 (£2,163;$3,473) for a spouse and $2,351 (£1,082; $1,737) per child or dependent.
Meanwhile, more than 70 owners of businesses in the city centre were allowed into the central devastated zone of Christchurch for three hours on Monday, to salvage what they could.
Some business owners said they hoped to retrieve hard disks that would enable them to continue operating from other locations.
The number of names of the dead released so far is 117.
Quake recovery is expected to cost the country at least NZ$15bn ($11bn; £7bn).