Japan earthquake: Military rescue effort doubled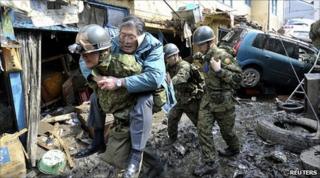 Japan has doubled the number of soldiers being deployed in rescue and recovery operations following Friday's devastating earthquake and tsunami.
About 100,000 soldiers have now been committed to the operation, officials said.
Scores of ships and aircraft are battling to reach the worst affected areas in the north-east, where more than 10,000 are thought to have died.
International rescue teams are also flying into Japan.
They were responding to an appeal by the government.
"There are so many people who are still isolated and waiting for assistance. This reality is very stark," Defence Minister Toshimi Kitazawa said.
Latest images and video footage show hundreds of miles of coastline shattered by the tsunami, with some coastal towns and villages almost swept away. In some areas the destruction stretches for several kilometres inland.
Death toll
Piles of debris made up of thousands of trees, vehicles, boats and pulverised buildings are strewn across roads and railway lines, slowing the progress of rescue teams.
Corpses are also being recovered. On Sunday, police said the death toll in Miyagi prefecture alone was likely to exceed 10,000.
Thousands of survivors who reached emergency centres before the tsunami struck are still cut off, surrounded by water and debris.
More than two million households in the north-east are still without electricity and at least one million homes have had no running water since the 8.9 magnitude quake.
Correspondent says food and petrol are also running out across the region.
As the race to reach survivors is stepped up, Japan's foreign ministry said offers of assistance had come from dozens of nations as well as five international aid groups.
On Sunday, a UK rescue team including four medics and two sniffer dogs was on its way on a private charter plane with 11 tonnes of equipment.
Teams from Germany, Switzerland and France have also been dispatched.
China, setting aside a territorial row that has soured its relations with Tokyo, dispatched rescuers who were due to arrive on Sunday.
The US aircraft carrier Ronald Reagan has reached the north-east coast to help refuel Japanese helicopters and transport soldiers. The US has 50,000 military personnel in Japan.
The aircraft carrier USS George Washington is already in the region.
New Zealand, which suffered an earthquake tragedy in the city of Christchurch last month, has sent a search and rescue team.
The US Agency for International Development has sent a 150-strong rescue team that includes 12 dogs and about 150 tonnes of rescue equipment.
Australian Foreign Minister Kevin Rudd said his country was offering field hospitals and victim identification personnel.
South Korea and Singapore have also also pledged dogs and rescue teams.
The earthquake struck on Friday afternoon off Japan's north-east coast, about 400km (250 miles) north-east of Tokyo.
It was nearly 8,000 times stronger than last month's quake in New Zealand, scientists said.