Profile: Sendai City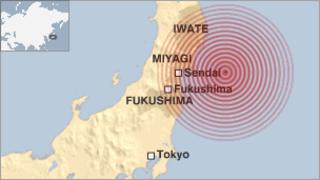 A powerful earthquake has struck the north-east coast of Japan, triggering a devastating tsunami. The BBC profiles the northern city of Sendai, very close to the epicentre and expected to be one of the worst damaged in the disaster.
Sendai, with a population of more than one million, is the largest city and commercial centre of the Tohoku region in northern Honshu.
The capital of Miyagi prefecture, the sprawling city lies about 300 km (180 miles) north-east of Tokyo. It is located between the Nanakita River and the Hirose-gawa River.
It has a diverse geography, with plains in eastern Sendai and mountains in western areas, while the centre of the city is hilly. The highest point is Mt Funagata, which stands 1,500m (4,920ft) above sea level.
Sendai is at the centre of the region's economy and the base of logistics and transportation.
The city's economy heavily relies upon retail and services, which employ a significant proportion of the population.
It is also known as being green and scenic, with a large ratio of park space to city area, and broad, tree-lined streets, especially in the centre.
Sendai is also the regional seat of federal administrative agencies, and home to several universities, including Tohoku University.
Agriculture in the surrounding area consists of rice paddies and fruit orchards.
The city was founded around 1600 by feudal lord Date Masamune (1567-1636) as his capital.
Several centuries later, the city had to be rebuilt after it was hit by Allied bombing during World War II.