Japan PM Naoto Kan admits foreign donations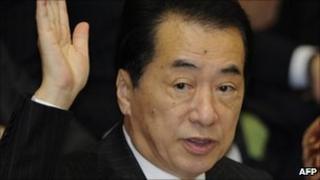 Japanese Prime Minister Naoto Kan has admitted that his political campaign fund received donations from a foreigner, in breach of Japanese law.
Mr Kan told a parliamentary committee that at the time he had been unaware that the donor was a South Korean citizen, resident in Japan.
He told cabinet colleagues he would not be resigning.
Japanese law bans political donations from foreigners to prevent politicians being influenced from abroad.
"I thought he was a Japanese national as he had a Japanese name," Mr Kan told a parliamentary committee about the reported donations.
"I wasn't aware at all that he is a foreign national as the report says."
He promised to "return all the money if it is confirmed that he is a foreign national".
When asked if Mr Kan would resign, Chief Cabinet Secretary Yukio Edano told a news conference: "I have heard that the prime minister is absolutely not thinking about such a thing."
Mr Kan was given support by his finance minister, Yoshihiko Noda, who said "as it wasn't intentional, I don't see any legal problems there", Dow Jones Newswires reported.
Under Japanese law, knowingly receiving political donations from foreigners can lead to a five-year ban from public office, but if a lack of intention can be demonstrated, there may not be legal problems.
Mr Kan would become the fifth Japanese prime minister to leave his job after a year or less in office if he resigned.
His departure would also further delay the passage of bills necessary to implement the national budget and curb the deficit.
'Fulfil my duty'
The resignation of Foreign Minister Seiji Maehara on Sunday - over donations he had received from a South Korean - has added to the impression of a government in disarray.
Mr Maehara had been seen as a potential successor to Mr Kan but had to step down after just six months in the job.
He had admitted taking a 50,000 yen ($610) political donation from a South Korean national resident in Japan.
At the time, Mr Kan told parliament that he intended to fulfil his duties until elections, which must be held by late 2013.
"Carrying out the administration's duties for a four-year term and then letting the people decide at the ballot box is best for the people themselves," Mr Kan told an earlier parliamentary session.
"I intend to firmly fulfil my duty until that time comes."
The opposition, which controls the upper house, wants an early poll and is threatening to block budget bills.
Mr Kan has also been fighting an internal party battle with power-broker Ichiro Osawa.
Mr Ozawa, a founder member of the DPJ, was indicted on 31 January for alleged false reporting by his fund management company.
He is widely credited with overseeing the DPJ's 2009 election victory, which ended half a century of almost unbroken rule by the Liberal Democratic Party.