Fresh floods hit Queensland towns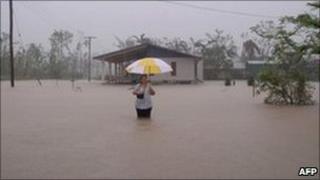 Parts of northeastern Australia badly hit by Cyclone Yasi have been hit by new heavy rainfall.
Residents of Cardwell, one of Queensland's worst-hit towns, are thigh-deep in water.
Rising waters have cut off Cardwell, Mission Beach, Tully Heads and Hull Heads; supplies of food and water are running short.
More rain is expected in areas that were only just beginning to recover from the storm, which hit in February.
Debris from Cyclone Yasi still litters the towns of northern Queensland. Roofs were ripped off houses and floods swept away possessions and hurt agricultural and mining incomes.
The cyclone came as southern parts of Queensland cleaned up after weeks of severe floods.
"It's pretty devastating because just when you think you might be getting ahead, you find yourself another two steps behind," pensioner Rita Porter, from Cardwell, told reporters.
"Today and tomorrow will be the worst for those townships," senior forecaster Bryan Rolstone told the AAP news agency.
"Because the catchment is saturated, flooding is very easy and when we have heavy rain, flooding is more likely."
Some residents have taken refuge, again, in evacuation centres.
A spokesman from Emergency Management Queensland, Daryl Camp, said cleaning up after last month's disasters was continuing.
"Now we get the rain on top of it - you can see that the people aren't taking it really well," he said. "It's one more thing to add to their list of burdens."
Flood warnings remained in place for parts of north Queensland.