Julia Gillard gives Australian music mix to Obama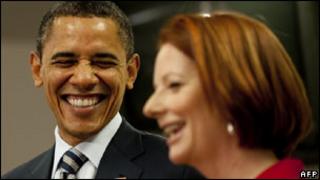 President Barack Obama has received a "foot-tapping" souvenir of Australian Prime Minister Julia Gillard's first official visit to the US.
As a parting gift, Ms Gillard handed the president an MP3 player loaded with a "best'' mix of Australian music.
The playlist features tracks from acts such as INXS, Midnight Oil, and Kylie Minogue, Australian media reported.
One newspaper said it could come in useful during presidential road trips and passing the time on Air Force One.
The Sydney Morning Herald published a full list of the music mix.
Ms Gillard also gave Mr Obama a souvenir Australian Rules football.
The president gave Ms Gillard an oval-shaped platter with a gold face, with an edge that is a copy of the outer-edge of the Oval Office carpet, featuring a selection of famous US political quotes.
Barack Obama told reporters he had been "immediately charmed" by Australia's first female prime minister.
Violence in Libya, climate change, the war in Afghanistan and trade were top of the agenda.
However, Mr Obama and Ms Gillard, a former education minister, also took time to visit a Washington area school where they took questions from history students.
During the session, Ms Gillard boasted about the virtues of Vegemite, an iconic Australian food spread, which Mr Obama called "horrible".
The visit also marked the 60th anniversary of the Anzus military alliance between the two nations.